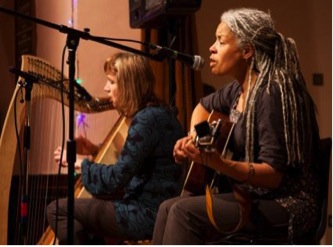 Introducing Witches Brew
More recently I have been performing regularly with harpist and fellow singer/songwriter Pauline Vallance, as the duo 'Witches Brew'. We formed in November 2012 after we collaborated on the song 'Spirit of Lochwinnoch' written by local playwright and author Franzeska Ewart. We discovered a mutual love of Scottish and Irish traditional song, rich harmonies, quirky arrangements and songwriting skills. Witches Brew has performed at the Star Folk Club, Houston Folk Club, Danny Kyle Open Stage at Adelaide's in Glasgow and the Speigle Tent Paisley, and local venues during Lochwinnoch Arts Festival; where we recently supported Largs Gaelic Choir.
We are looking forward to more performances using a variety of instruments including; guitar, flute, bazouki, clarsach and a range of traditional and modern African instruments.
Up and Coming Gigs
Fundraiser Lochwinnoch Golf Club: 7th February 7.30pm
Junction Cafe, Lochwinnoch Fest: Friday 21st March, 2pm
Elderly Forum, Lochwinnoch Fest: Tues 25th March, 11am
Parish Church, Lochwinnoch Fest: Tues 25th March with Kilmacolm Rock Choir, 7.30 pm
RSPB, Lochwinnoch Festival: Wednesday 26th March, 7.30
Saturday 12th July: 3 Churches Lochwinnoch 8pm
Sunday 17th August, 2.15pm and Tuesday 19th August 7pm: Acoustic Music Centre, St Bride's, Orwell Terrace, Edinburgh
For more information:http://www.lochwinnoch.info
or http://www.facebook.com/lochwinnoch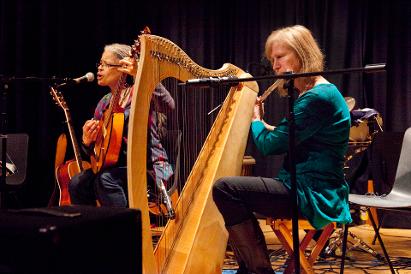 'Very professional stage presence and great audience rapport...' will always work , and work well no matter what country they are in.' 'Great musicality and work well on their own or as a duo.'... ' Very interesting material and good delivery.'
Danny Kyle Open Stage judges
For performance information or to book Witches Brew please go to: Contact Me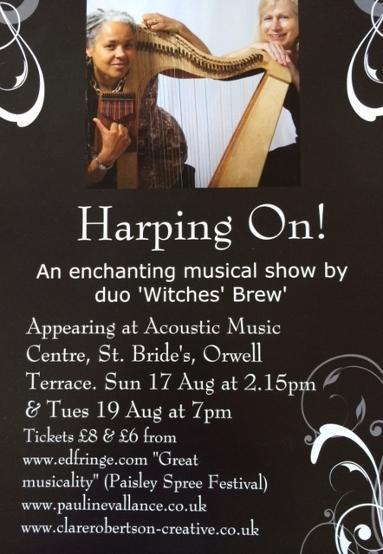 "A night of brilliant folk music by local duo Witches' Brew."
Councillor Andy Doig, Gryffe Advertizer